...slacking on the blogging obviously! ;)
I hope the summer was rockin' for everyone! I did some traveling, hit up a few concerts as usual, and didn't sew nearly enough. In the beginning of summer, I also started a vegan diet! With a little inspiration from my friend Bianca over at
Alter-Eco
, I picked up the book
Skinny Bitch: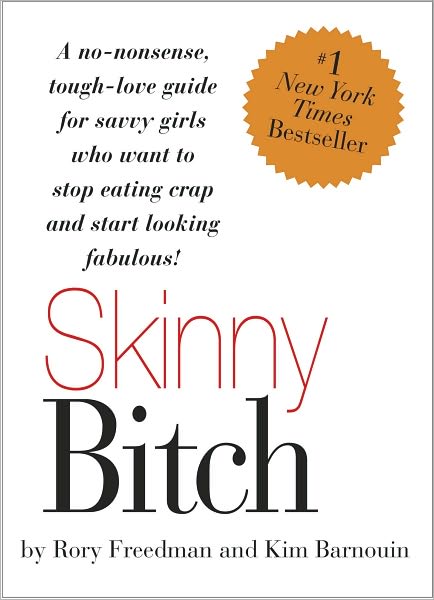 This book used straight-forward, no nonsense language (yes there is swearing, which I of course found rad.) to make some pretty serious points, and it really opened my eyes to what occurs in the dairy and meat industries. And let me tell you, from a prior Big Mac-loving-girl, it's pretty fucking sick. This book also nearly had me in tears. I almost immediately changed the way I was eating, and stocked my fridge and pantry full of vegan goodness. I felt so much better mentally and physically, after only a week! It was amazing. I haven't looked back since and continue to eat only vegan products. I have also made my diet about 95% organic, and it would probably be 100% if everything had an organic version :) Since starting this, I have dropped about 18 pounds, and have had better luck sticking to my yoga workouts! (Yoga=love!)
Even though I have adopted a vegan diet, I want people to know that I am in no way calling myself a Vegan. Obviously, if you've looked in my
Etsy shop
, or follow me on
Facebook
, you will notice that I have been working with leather. I do use only faux furs, but leather is something I have wanted to create pieces out of for a long time. This may not be long term, but at least for now I am going to experiment with it. I would like to honor the animals these hides came from, by creating gorgeous pieces of wearable art. Obviously if you're a full-fledged Vegan, I know you disagree with me. That's ok. I admire the way you live, and hope you'll respect my decision on this topic.
So, back to what EyeScream has been up to! On the topic of leather, I created my very first leather jacket this summer! I dubbed it "Golden Eagle in an Oil Spill" because it had a few different leathers combined: black with metallic gold, and a black on black "oil spill" looking pattern. Here's a couple shots:
This jacket went to my rockin' guinea pig Chad Cherry of the awesome band
The Last Vegas!
Hopefully soon I'll have more rockin' pix to show you! :)
I also have a few new pieces just listed in my shop, featuring the gorgeous
Mary Gothcupcake
modeling! Isn't she purty??
Next up for the shop is more scarves for the fall/winter season, and wrist cuffs! I am also aiming to have a jacket or two added to the mix.
I think that's about it from EyeScream City. Hope you're all well, and enjoying the start of the fall season!!! Keep rockin'!!
<3
Nicole EyeScream